A versatile solution for monitoring gases - ideal for the semiconductor industry
The D-ReX was designed specifically for the requirements of the semiconductor industry, but will also significantly increase the safety of any other application where toxic, corrosive or combustible gases need to be monitored.


One system for every requirement
The D-ReX is a standalone gas detection device for a variety of different applications. The diffusion version monitors atmospheric gases at the Point of use (PoU). Gases in places that are hard or impossible to reach, such as pipe systems, can be monitored with an external sensor up to 100 feet away from the Point of Installation (PoI). If you need to sample gases from another room, a gas cabinet or a closed system – the Point of Sampling (PoS) – and check it in a safe environment, our D-ReX with integrated pump is the best choice. For gases that require a pyrolyzer, we offer the additional Py-ReX module.
State of the art gas monitoring
The D-ReX can easily be integrated into your current system thanks to its Power over Ethernet (PoE) communication and power supply and the (optional) LonWorks integration. The full color display will clearly and concisely indicate all information on the measured gas concentrations, threshold values, faults and alarms.
Smart sensors and simple service
Choose between electrochemical, catalytic or infrared sensors for more than 30 toxic, corrosive and combustible gases and oxygen. All sensors are preconfigured and come enclosed in easily replaceable sensor cartridges. The corresponding app connected using Bluetooth facilitates servicing and thus minimizes downtimes as well as costs.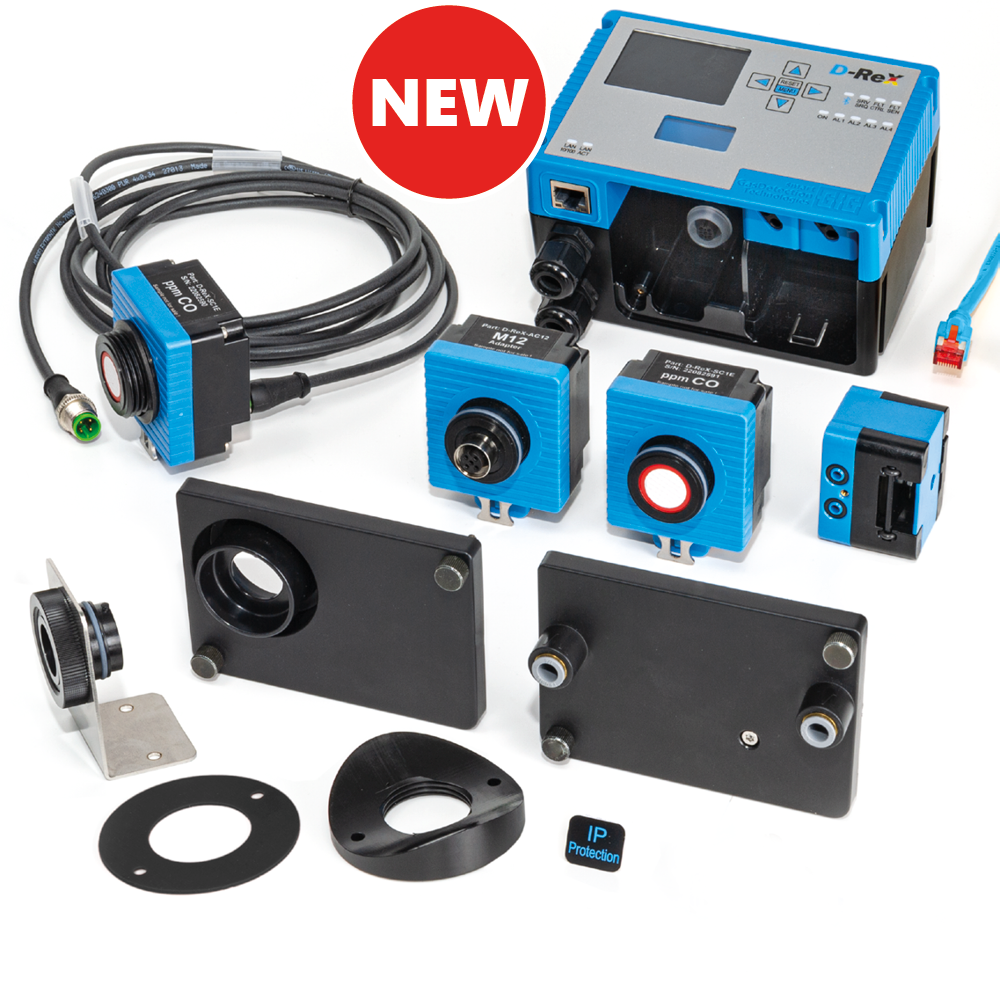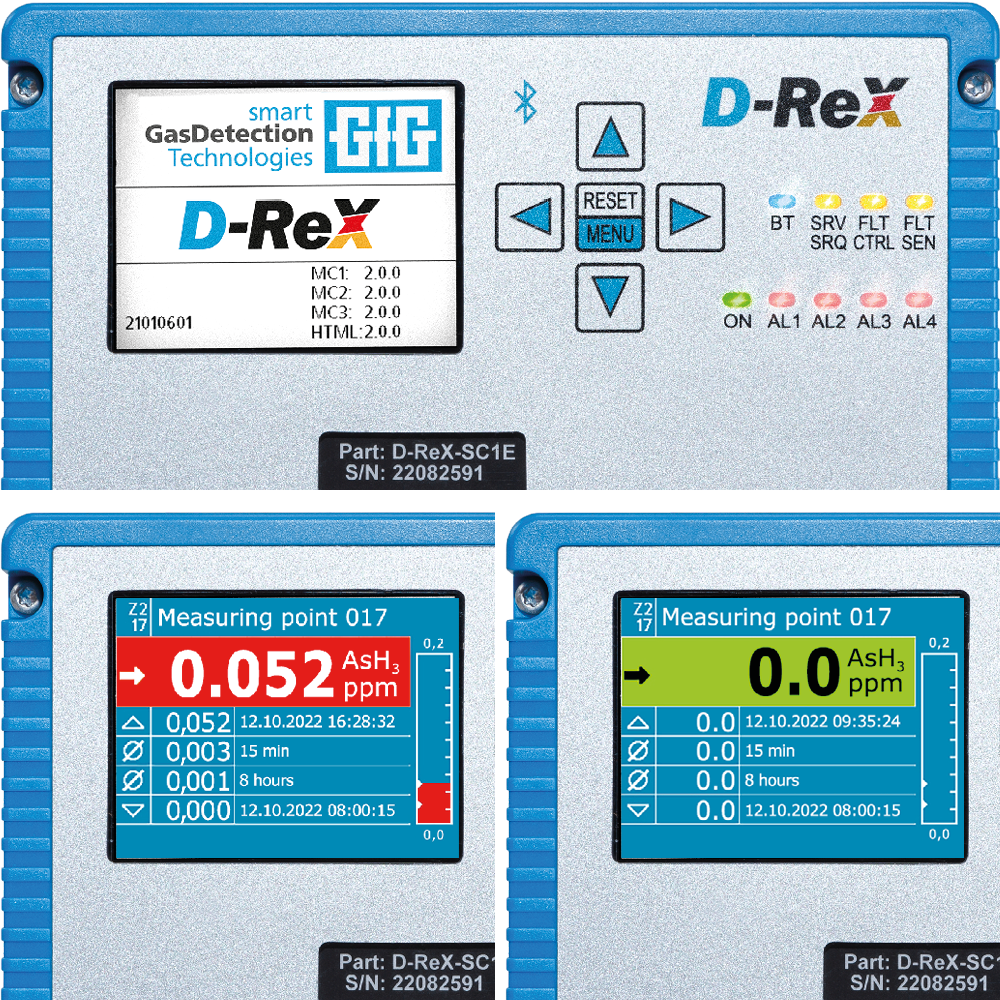 Different options for increasing safety
Every D-ReX can optionally be equipped with five internal relays (with one freely programmable changeover contact each) which are used for the implementation of security procedures. If your application requires more relays, they can be connected by one of our optional GfG relay modules. The GMA200-RT offers 16 relays with changeover contacts, is available with or without display and can be mounted either on DIN rails or walls.
Clear information
The large TFT color display will supply you with all necessary information on the measured gas, the measured concentration, the condition of the gas detector and any errors in clear plain text, so you can react immediately. The display can be set to English and up to five other languages. You can control the device with the Bluetooth connected app or using the 5 button interface next to the display.
Communication just the way you need it
To meet the standards of the latest device connectivity options, the D-ReX is equipped with a PoE enabled LAN interface with 10/100 Mbits/s for safe and fast transmission of data. This allows you to address the D-ReX both from your network and from the internet. Alternatively, we also offer versions for analog integration into 4-20mA infrastructures or digital communication through the reliable RS-485 industry standard connection (Modbus).
Key features at a glance:

One System – so many possibilities:
PoU: Gas detection using diffusion
PoI: External sensor (cable length of up to 100 ft)
PoS: Integrated pump (tube length of up to 100 ft)
Equipment:
Power over Ethernet
Bluetooth
Full-color 2.4" display
11 colored status LEDs
Housing for DIN rail mounting (TS35)
Optional:
Protection rating IP30-IP64*
Line Integrity Monitoring (only on D-ReX PoS)
Flange saddle for monitoring inside pipe systems (only on D-ReX PoI)
LonWorks
5 internal relays
Relay module for expansion (16 additional relays)
D-ReX pyrolyzer Py-ReX (only on D-ReX PoS)
*depending on model variant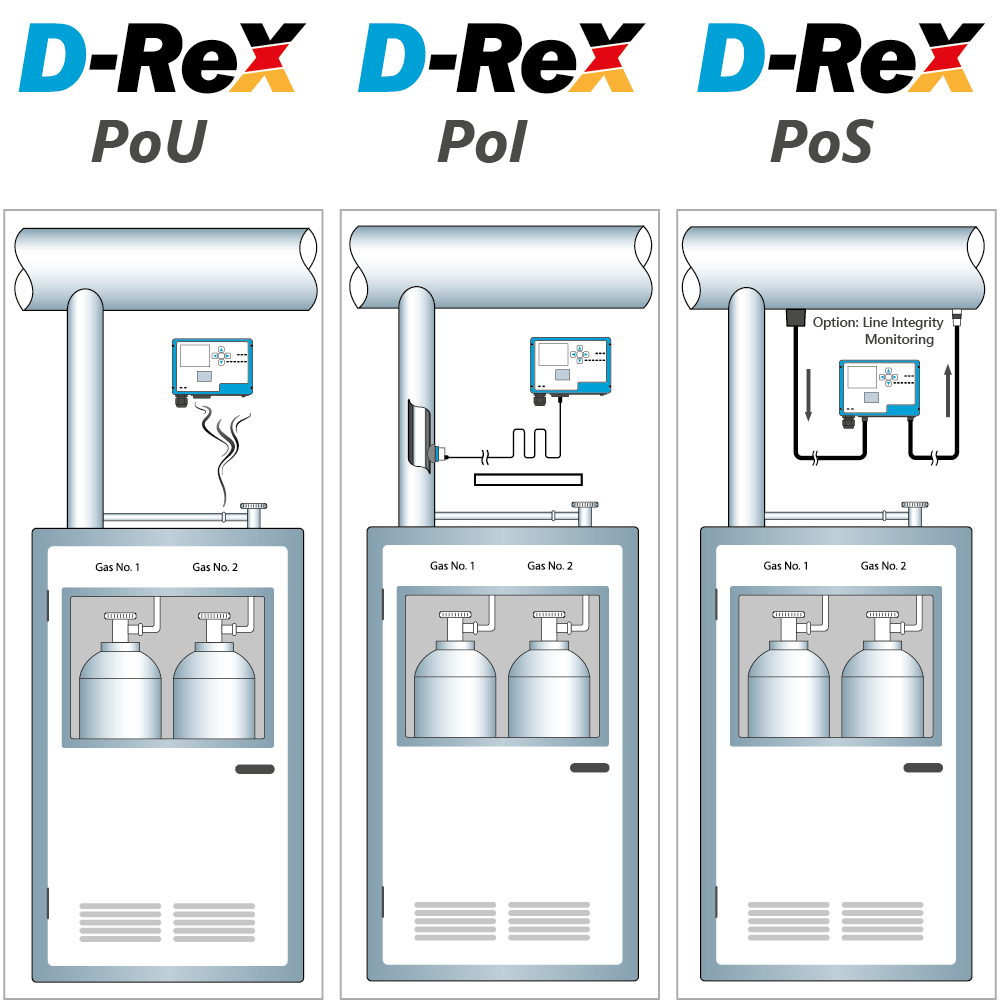 AsH3
Arsine
B2H6
Diborane
Br2
Bromine
Cl2
Chlorine
ClF3
Chlorine trifluoride
ClO2
Chlorine dioxide
CO
Carbon monoxide
CO2
Carbon dioxide
COCl2
Phosgene
ETO
Ethylene oxide
F2
Fluorine
GeH4
Germanium
H2
Hydrogen
| | |
| --- | --- |
| H2S | Hydrogen sulphide |
| HBr | Hydrogen bromine |
| HCl | Hydrogen chloride |
| HCN | Hydrogen cyanide |
| HF | Hydrogen fluoride |
| HMDS | Hexamethyldisilazane |
| N2H4 | Hydrazine |
| N2O | Nitrous oxide |
| NH3 | Ammonia |
| NO | Nitric oxide |
| NO2 | Nitrogen dioxide |
| O2 | Oxygen |
| O3 | Ozone |
| | |
| --- | --- |
| PH3 | Phosphine |
| SeH2 | Hydrogen selenide |
| SiH4 | Silane |
| SO2 | Sulphur dioxide |
| TEOS | Tetraethyl orthosilicate |
| TMB | Trimethyl borate |
| LEL | Combustible gases and vapors |
| C4F6* | Hexafluorobutadiene |
| C5F8* | Octafluorocyclopentene |
| CH3F* | Methyl fluoride |
| NF3* | Nitrogen trifluoride |
| SF6* | Sulfur hexafluoride |
| | |
More gases on request | * Gases which additionally require the D-ReX pyrolyzer Py-ReX
GMA200-RT
---
Relay module with 16 relays for expanding the D-ReX's functionality
» more
GMA200-RTD
---
Relay module with display for expanding the D-ReX's functionality
» more
GMA200-RTW
---
Wall-mounted relay module for expanding the D-ReX's functionality
» more
D-ReX Accessories
---
List of accessories for the D-ReX
» download PDF (available soon)