The G999P combines the requirements of a modern multi-gas detector for use in personal protection with the ability to clear confined spaces, shafts and vessels by means of an integrated pump. The robust and practical multi-gas detector is equipped with a photoionisation detector for volatile organic compounds, an infrared sensor for CO2 and 3 electrochemical sensors for toxic and combustible gases as well as oxygen. In this configuration, the G999P is versatile in use and suitable for a wide range of applications.
For personal protection against a wide range of gas dangers and clearance before entering shafts and confined spaces, the Polytector III G999P is the best choice. The multi-gas detector is equipped with 5 sensors for the detection of up to 7 combustible and toxic gases, volatile organic compounds as well as oxygen. Clearance measurement is done with the integrated pump.

Safety and operation
The Polytector III G999P is certified for use up to Ex zone 0 and is water- and dust resistant according to protection class IP67, making the multi-gas detector suitable for challenging applications. The housing made of rubberized polycarbonate offers excellent protection against shocks and vibrations. The practical design and the robust crocodile clip ensure optimum wearing comfort. Operation is performed using three buttons and the color backlit display, of which the screen can be rotated by 180 degrees if required. For poor light conditions, the G999P offers an explosion-proof LED light.

Alerting, battery life and pump performance
If a threshold value is exceeded, the G999P warns its wearer in three ways by light signals, vibration and a loud horn (103 db(A)). The integrated NiMH battery has a runtime of up to 130 hours, depending on the operating mode and sensor configuration. The metering pump delivers around 0.6 liters per minute from a distance of up to 100 meters.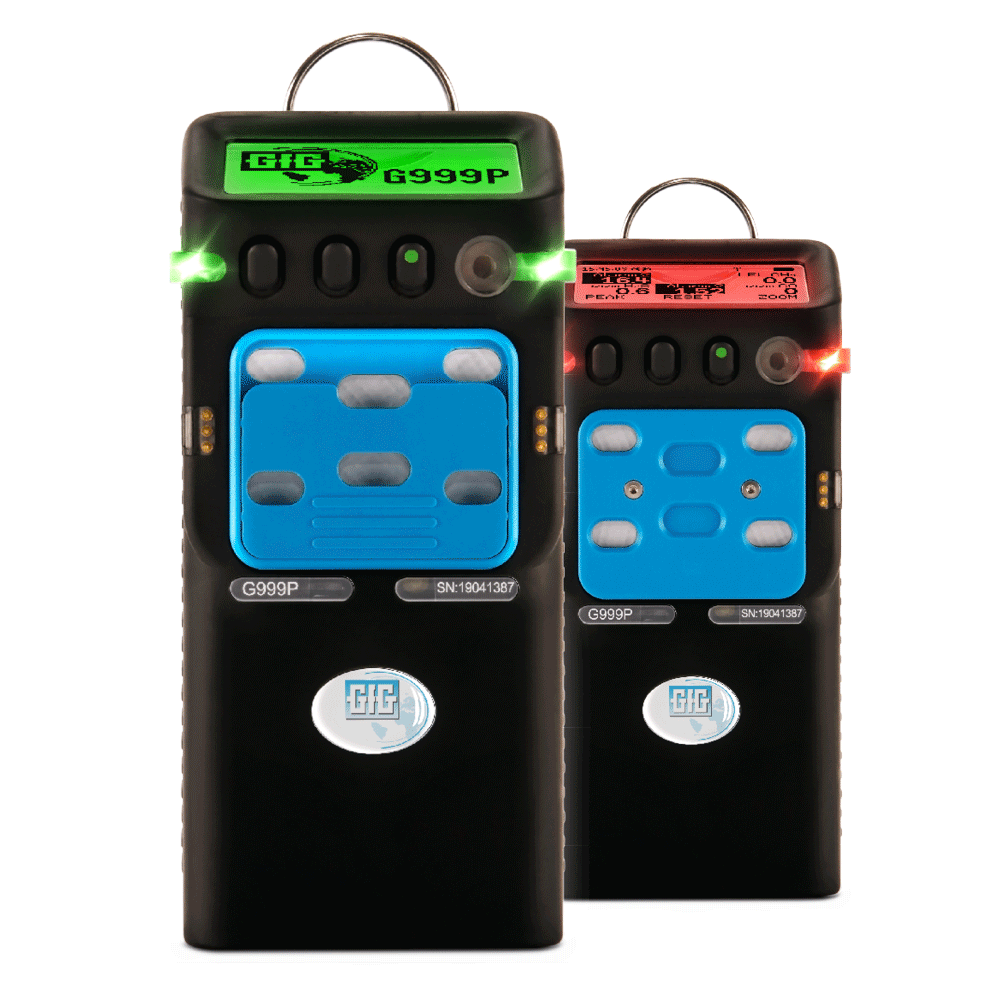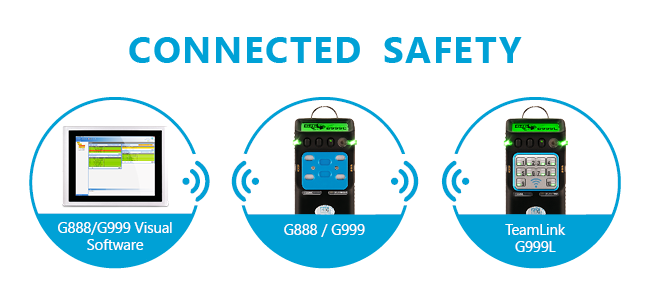 Connected Safety
Equipped with an optional radio module, up to 10 portable gas detection devices of the G999 series can be connected to the Connected Safety Monitor TeamLink. The supervisor thus always has an overview of the local readings and the status of each team member. In the event of a gas or man-down alarm, the supervisor can initiate help quickly and in a targeted manner. The G888/G999 Visual software also makes it possible to monitor more than 10 portable gas devices and send short messages.
Accessories
The DS400/404 docking station can be used to charge, calibrate and adjust the gas detectors of the G999 series. To better distinguish gas detection devices for different applications, they can be marked with diffusion covers in five signal colors. Clearance measurement is made easier by various suction tubes and floating probes. A complete overview of the accessories and all extensions offered for the G999 series can be found at the bottom of this page.

Model variants
There are four other models available in the G999 series: the G999C, G999S, G999E and G999M. All of these detectors offer slots for 3 electrochemical and an optional (combination) infrared sensor. Depending on the model variant, G999s also come with a catalytic sensor (G999C & G999M), a PID sensor (G999P), a fourth electrochemical sensor (G999E) or a CC/TC or CC/TC/SC sensor (G999S). This allows you to set up a variety of combinations of up to eight gases or measuring ranges for simultaneous monitoring. The G999M, which was developed specifically for the mining sector, is not only approved for use in Ex zone 0 but also received the M1 label for safe use underground. If you require a multi-gas detector without an integrated pump, the handy Microtector G888 is a great choice. It comes in two different versions: the G888C for use in Ex zone 1 and the G888M, which can be used in Ex zone 0 and is approved for mining applications. Both models feature slots for up to 5 sensors (3x EC, 1x CC, 1x IR).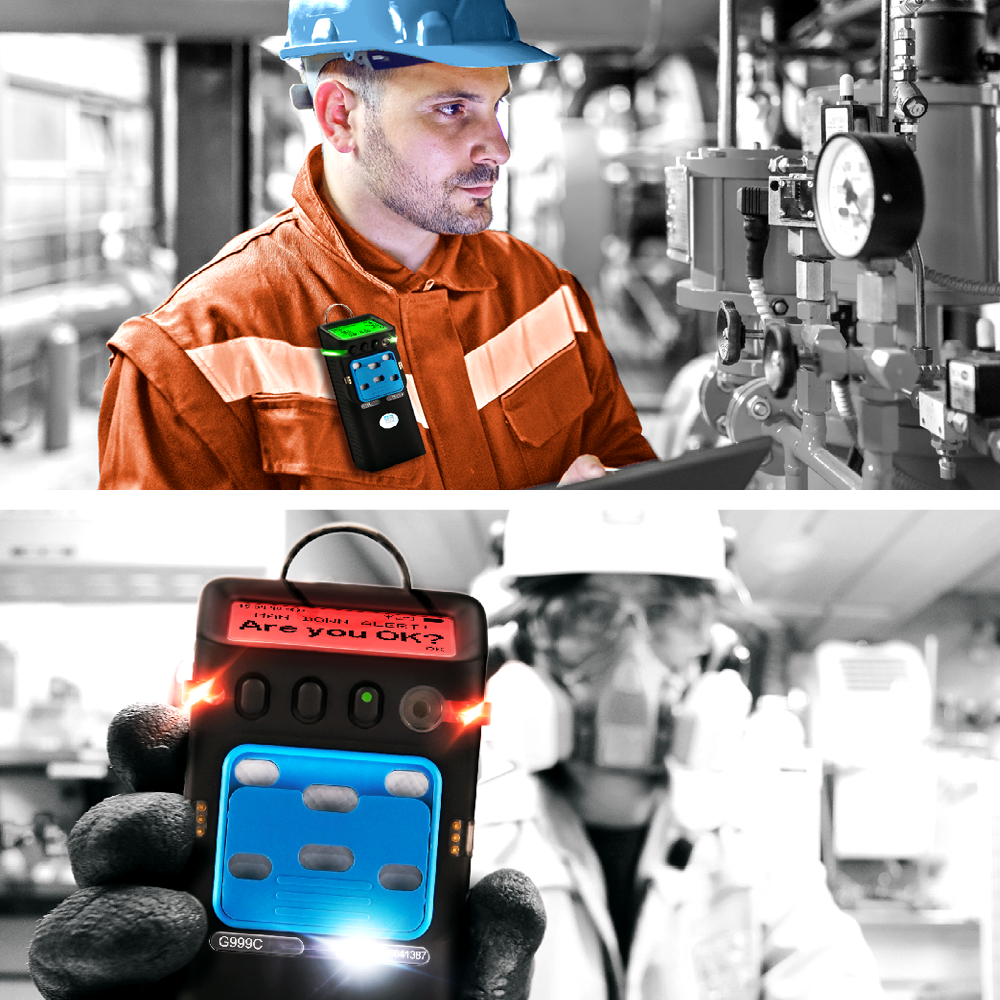 Status messages during start-up
Zoom display and PEAK function
Extensions and accessoires