The Micro IV is part of the personal protective equipment of firefighters and workers in mines, steelworks, refineries and canal construction. Thanks to its compact design and long operating time, it is a reliable 1-gas detector even for difficult conditions. The Micro IV monitors toxic gases, oxygen or hydrogen and alerts its wearer visually and acoustically. The data stored in the data logger can be read out conveniently via the infrared interface or a docking station.
The Micro IV has a slot for an electrochemical sensor. Smart Sensor technology allows for quick and easy sensor replacement. A wide range of EC sensors is available for a variety of toxic gases, hydrogen as well as oxygen with different measuring ranges such as ppm and vol.-%. This makes the Micro IV suitable for monitoring gas dangers such as ammonia, carbon monoxide, hydrogen sulphide, nitrogen and a lack or excess of oxygen. Optionally, an electric pump can be connected to safely clear confined spaces and containers.

Safety and operation
The Micro IV is certified for use in hazardous areas up to Ex zone 1. In addition, it is water- as well as dust-protected according to protection class IP54. The robust ABS housing is triple-metallised and additionally protected against shocks and vibrations by optional covers made of rubberised polycarbonate. The compact design, the very low weight and the carrying clip ensure optimal handling. Operation is done via three buttons and the illuminated display.

Alarm and battery life
In the event of a threshold being exceeded, the Micro IV warns its wearer with a light signal and loud horn (95 db(A)). The operating time with only one Mignon battery is up to 6 months. The optional pump has its own power supply and therefore does not shorten the running time of the unit.

Accessories
With the docking station DS220, function tests, adjustment and documentation can be carried out for six Micro IV gas detectors. The G200 pump can be plugged in for free measurement. The DI220 readout device enables device configuration and data transfer to the PC. A complete overview of the accessories and all extensions offered for the Micro IV can be found at the bottom of this page.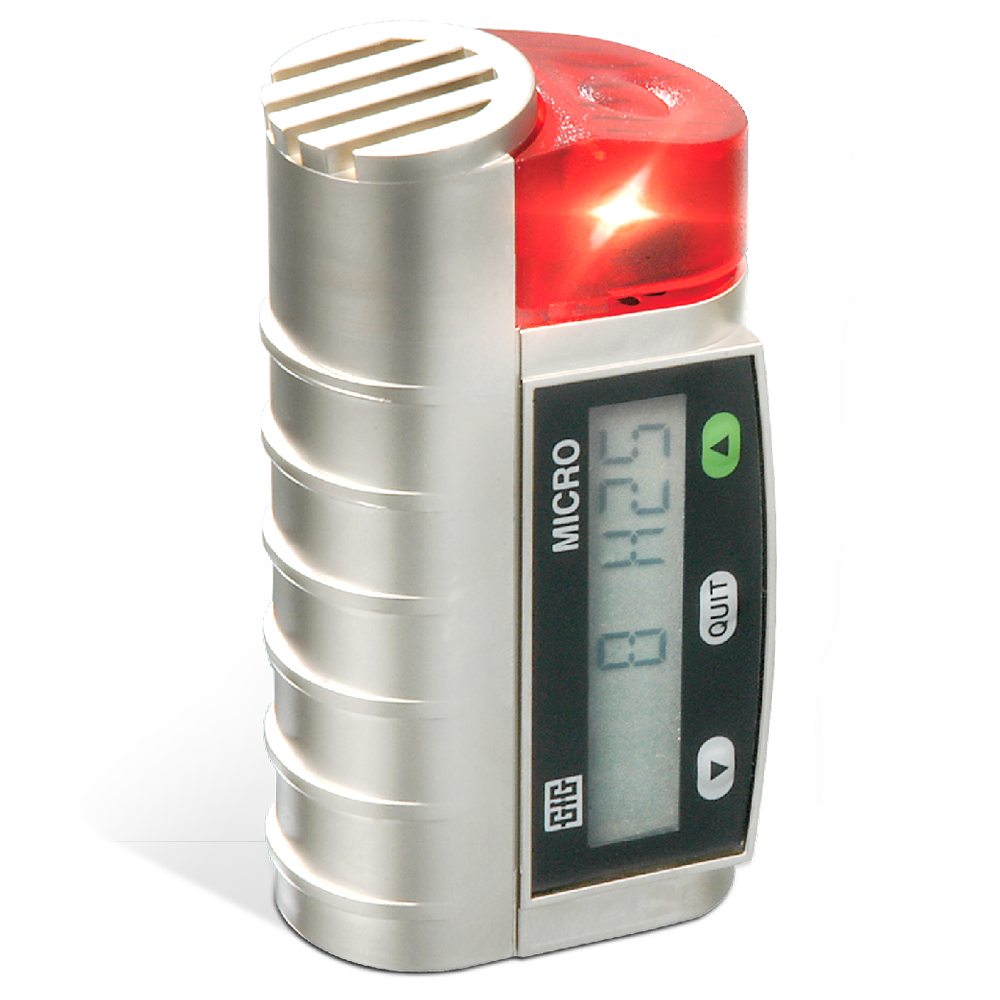 TWA_STEL alarm viewer:
USB drivers:
If you need further assistance email: service@goodforgas.com or call us at: 800-959-0329
Extensions and accessories