Transmitter with display for selective oxygen monitoring

If oxygen is to be monitored selectively and over a long period of time, the ZD22 D transmitter is a reliable and economical solution. The ZD22 D transmits measured values and status displays analogue (0.2-1 mA or 4-20 mA) or digital (RS-485). In addition, there is an on-site indication on the display and, in the event of an alarm, a local warning via buzzer. In combination with GfG's proven controllers, installation in new gas detection systems as well as retrofitting in existing systems is possible.
The ZD22 D detects oxygen by means of a zirconium dioxide sensor (ZD), which is insensitive to ambient conditions and sensor poisons. The current measured value can be read at any time on the 2.2-inch display, which lights up red in the event of an alarm. The long-life sensors make the ZD22 D an economical solution for the detection of oxygen in the measuring ranges 10 to 1,000 ppm and 0.01 to 96 % by volume. Automatic temperature compensation and linearisation of the measuring signals ensure high measuring accuracy.

Functional safety and device protection
The hardware of the ZD22 D complies with the European Functional Safety Standard DIN EN 61508-2: 2011 (SIL). The housing is protected against the ingress of dust and water (protection class: IP54). An optional weatherproof housing provides additional protection.

Communication and service
Signals are transmitted according to the analogue industrial standard (optionally 0.2-1 mA or 4-20 mA) or via the digital RS-285 interface (Modbus protocol). The transmitter indicates operating states via two status LEDs. Service and settings are carried out intuitively on site with a built-in touch-button interface (one-man adjustment). The multicolour backlit display shows the current measured value, status messages and the menu of the ZD22 D. Test gas can be applied for function control with a calibration adapter.

Key features at a glance:

General information:
measuring principle: zirconium dioxide (ZD)
for oxygen
expected sensor lifetime: 4-5 years
2.2-inch colour display, built-in touch-button interface, buzzer
signal transmission: 0.2-1 mA / 4-20 mA / RS-485
protection class: IP54
Approvals / Certifications:
Optionally available:
RC22 operating unit, weatherproof housing, calibration adapter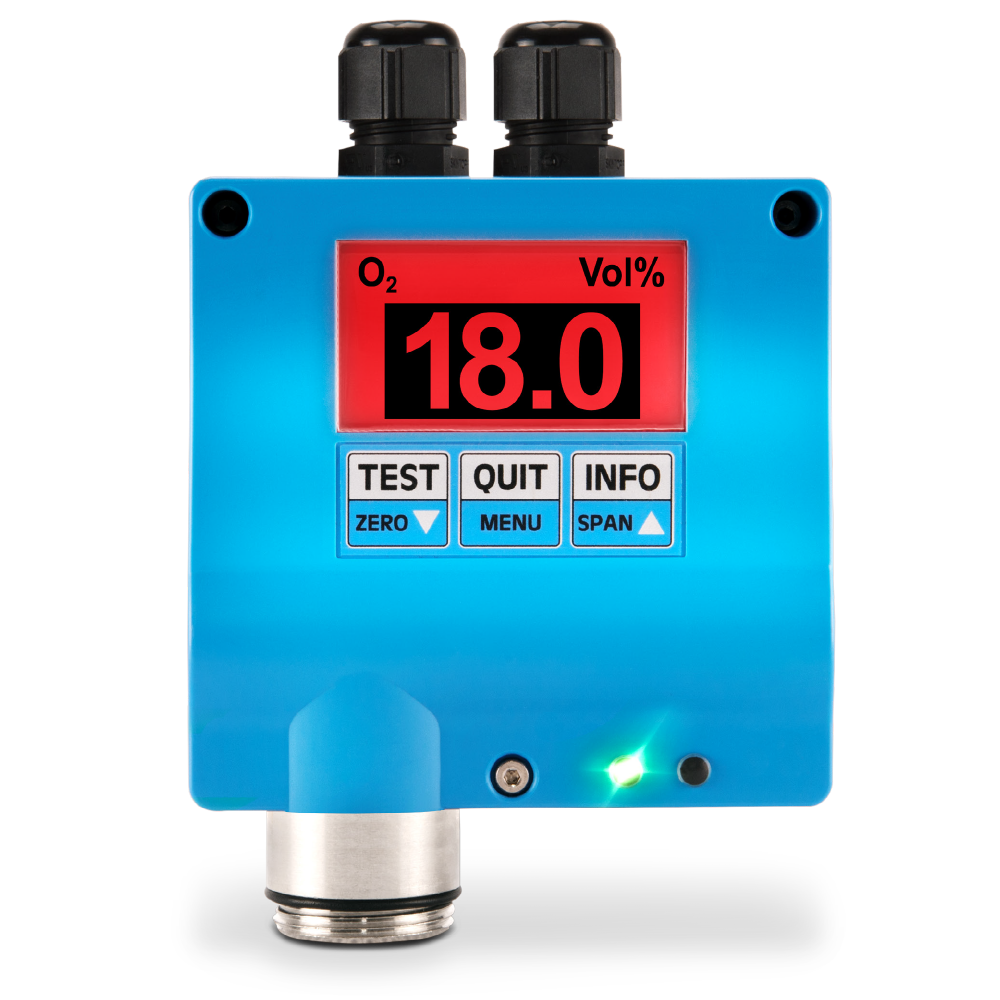 Extensions and accessories
Weatherproof housing
---
Weatherproof housing for various transmitters
» more
Test gases
---
You can find an overview of our test gases here
» more
Accessories ZD22 D
---
Here you'll find the complete list of accessories for the ZD22 D
» download PDF