Versatile controller for smaller gas detection systems

Gases are also used, or may be found, in smaller facilities such as combined heat and power plants and cold stores. A reliable gas detection system therefore makes a significant contribution to the safety of people, equipment and the environment. We have developed the GMA22-M for gas measurement in such applications. Up to four transmitters and relay modules can be connected to the controller. Also part of the extensive features is a display for measured value indication, integrated visual and audible alarms, and four internal relays for additional safety measures.
In many processes, gases need to be controlled - regardless of the size of the plant. Even in smaller applications, a gas warning system is indispensable. The GMA22-M is the ideal controller for this purpose, if

up to four transmitters are used
toxic and combustible gases or oxygen are to be monitored
a central measured value display is required outside hazardous areas
internal or external relays are required for safety measures
acoustic and visual alarms are to be initiated in the event of danger from gases

Wide range of connection options
Up to four transmitters can be connected to the GMA22-M via the RS-485 interface. In addition to the measured values, the controller also receives digital information such as status messages and service information. Alternatively, it is also possible to connect a transmitter via an analog 4-20 mA or 0.2-1 mA input.
If this is an ACDC capable transmitter from GfG, digital information can also be transmitted via the analog lines (only via 4-20 mA). Many transmitters from GfG can be calibrated remotely when digitally integrated or via ACDC. This greatly simplifies service which can be performed by a single technician.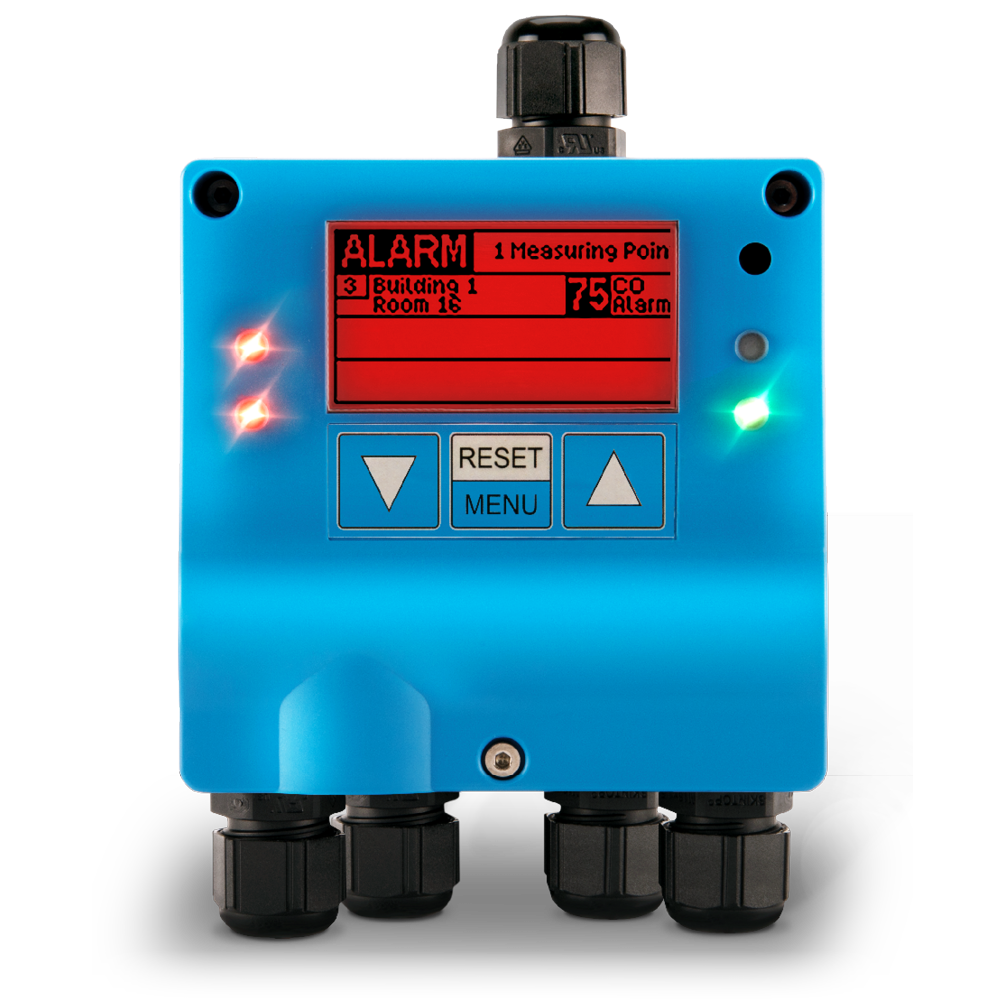 Exterior features
The dimensions (97 x 140 x 50 mm) are exceptionally small. This allows the GMA22-M to be mounted almost anywhere on the wall. The housing is protected against dust and splash water (IP64). This enables use under difficult external conditions.

The 2.2-inch display is backlit in color. It lights up green in normal operation and red in the event of an alarm. The alarm levels are signaled by two red LEDs. In addition, there is an acoustic alarm via the integrated horn.
Two further LEDs indicate operating and special states in green and yellow. Below the display there is a pushbutton interface for intuitive operation and alarm acknowledgement.

Internal and external relays
The GMA22-M has four integrated relays for implementing safety measures. Additionally, up to four relay modules GMA200-RT can be connected via the RS-485 interface. With 16 potential-free change-over contacts each, the number of relays is increased up to 64.
Configuration of the GMA22-M and the relay modules is done via the GMA200Config software. Alarms, faults and measured values can be recorded via data logger on a microSD card, if desired.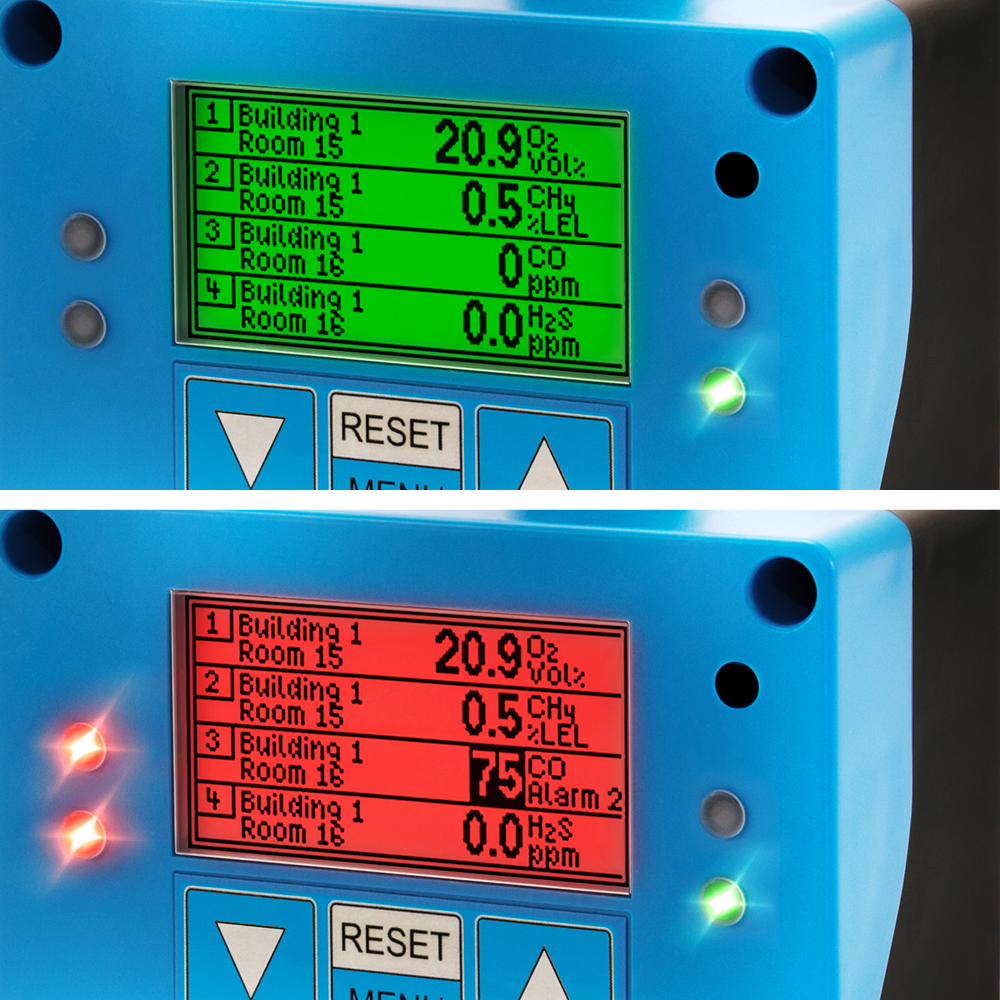 The GMA22-M is available in four different versions:

GMA22-MW (230 V AC): 3x change-over contact, 1x make contact, Power supply integrated
GMA22-MW (24 V DC): 4x change-over contact
GMA22-MS (230 V AC): 4x make contact, Power supply integrated
GMA22-MS (24 V DC): 4x make contact

Each version is optionally available with a digital or analog input signal.
Key features at a glance:

Suitable for any transmitter of GfG
Monitors 1 to 4 measuring points
4 integrated relays for safety concepts
4-20mA (ACDC capable) or RS-485 (Modbus)
color backlit 2,2" display
visual and audible alarm
data logger (microSD card)
compact housing for wall mounting (IP64)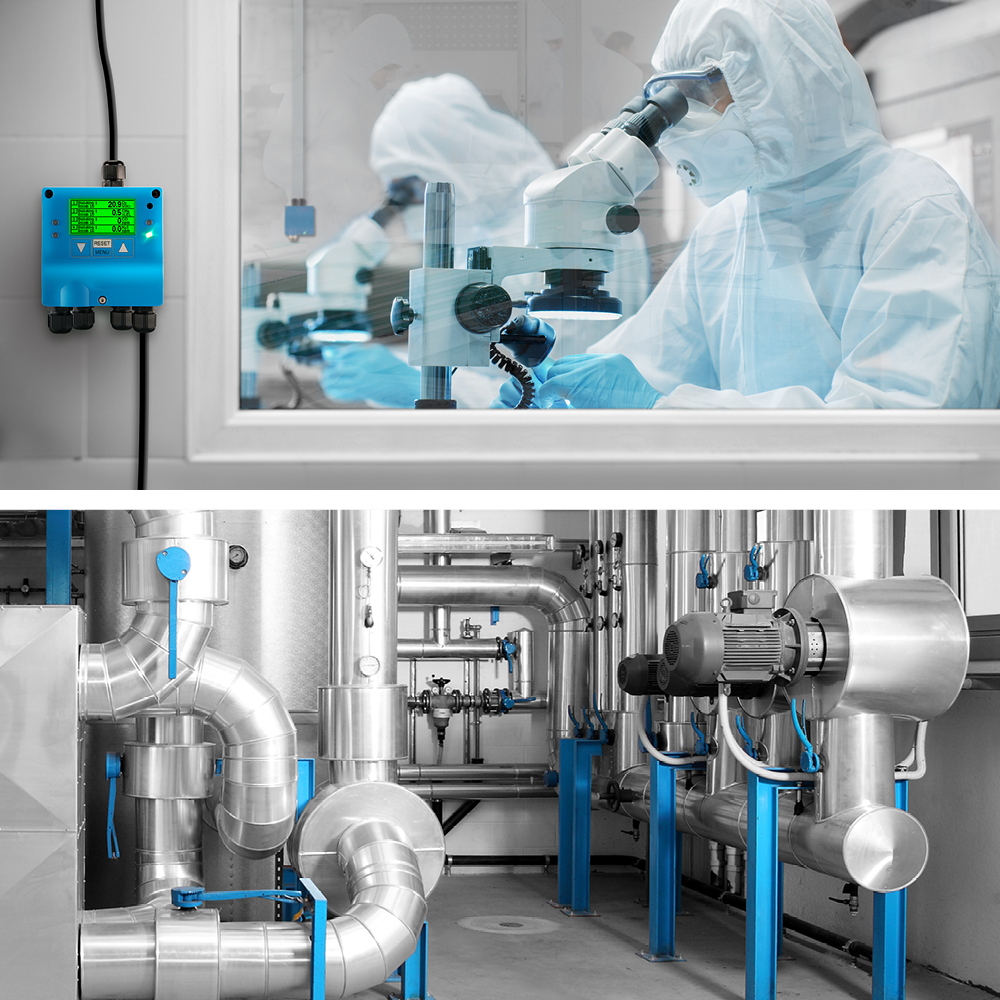 Extensions and accessories