Test stations for the G450 and G460 portable gas detection devices

The TS400 and TX400 test stations quickly and automatically perform the required function tests on Microtector II G450 and G460 personal gas detectors. The TX400 can also be used to adjust sensors with test gas. Both test stations are available with an optional charging function for the portable gas detectors. Gas detection devices make a significant contribution to safety, if they are tested every working day.
Before each use of a portable gas detection device, its operational capability must be checked with a function test ("bump test"). We developed the TS400 and TX400 test stations to make this process as simple, quick and cost-effective as possible for our G450 and G460 portable devices, while still complying with the DGUV information 213-056 (T021) and 213-057 (T023). During the functional test, the test station can be operated using the display and buttons of the inserted gas detector.

Function test and adjustment
After a switched-on gas detection device is placed into either of the two test stations, the station will automatically start a function test. Within a maximum of 30 seconds, the alarms and response times are tested, the time and test interval are set, and the data is stored on a microSD card (optional). The device will then give you feedback about the test's success or, if applicable, any errors that occured. The TX400 can also be used for sensor adjustment. Before starting the adjustment, the zero point of the sensors must be set with fresh air. The sensor sensitivity is then readjusted using the appropriate test gas. Depending on the device and the number of sensors, this process will take a maximum of four minutes.

Power supply and charging function (optional)
The test stations are powered by an external 12-volt power supply unit or by a PC (connected via USB). If a gas detection device is placed inside the docking station while switched off, it will automatically start charging. Once it is fully charged, the test station will switch to trickle charge mode to conserve battery power. A 230 volt power supply or car charging adapter is required for the charging function.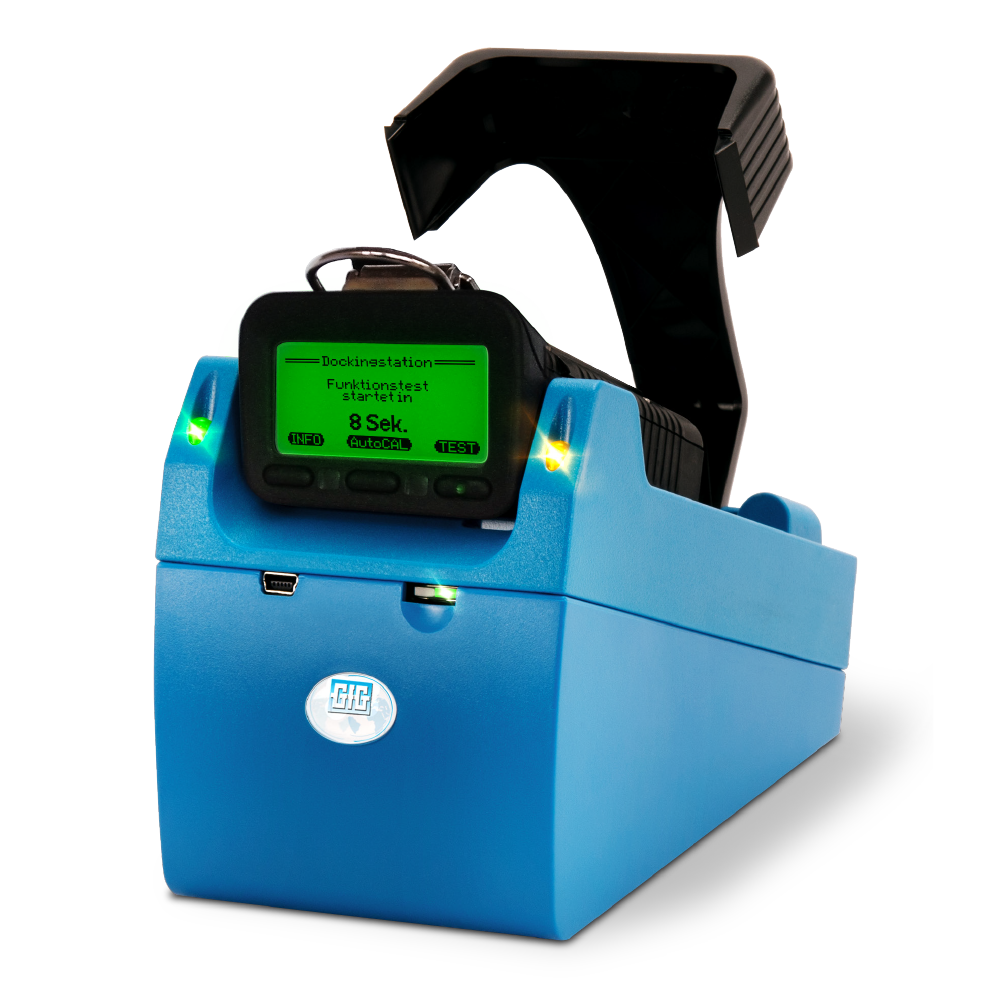 Equipment and accessories
A gas extraction fitting (optional) should be used for test gas application with a gas cylinder. Both test stations are equipped with one input and one output each for supplying and withdrawing test gas. The data is documented on a microSD card. A mini-USB port can be used to connect the device to a PC.
Key features at a glance:

Meets the requirements of DGUV information 213-056 (T021) and 213-057 (T023) as well as DIN EN 60079-29-2
Suitable for the portable gas detection devices G450 and G460
Function test, adjustment (TX400 only) and charging function (optional)
Data storage on microSD card, data transfer to PC
Optional: carrying case, power supplies (12 / 24 / 230 V), microSD card, data point software, gas sampling fitting
Mobile use (no PC - 12/24 V power supply)