EC22 O Transmitter with Display
Transmitter for oxygen measurement with partial pressure sensor and display

If oxygen is to be monitored in applications with high helium concentration where other oxygen sensors show deviating results, the EC22 O transmitter with display is a reliable and economical solution. The EC22 O transmits measured values and status displays in analog (0.2-1 mA or 4-20 mA) or digitally (RS-485) form. In addition, there is a local indication on the display and, in the event of an alarm, a local alarm via buzzer. In combination with GfG's proven controllers, installation in new gas detection systems as well as retrofitting in existing systems is possible.
The EC22 O transmitter with display detects oxygen by means of the electrochemical process (EC). The current measured value can be read at any time on the 2.2-inch display, which lights up red in the event of an alarm. The long-life partial pressure sensor measures the oxygen concentration accurately and in a measuring range of 0 to 35% by volume, even in air containing helium. Automatic temperature compensation and linearization of the measurement signals ensure high measurement accuracy.

Device protection
The housing is protected against the ingress of dust and water (protection class: IP54). An optional weatherproof housing provides additional protection.

Communication and service
Signal transmission is carried out according to the analog industry standard (optionally 0.2-1 mA or 4-20 mA) or via the digital RS-285 interface (Modbus protocol). Operating states are indicated by the transmitter via two status LEDs. Service and settings are performed intuitively on site using three keys directly on the device (one-man adjustment). The multicolor backlit display of the EC22 O shows the current measured value, status messages and the menu. Test gas can be supplied for function control using a flow adapter.

Key features at a glance:

General information:
measuring principle: Electrochemical (EC)
partial pressure sensor for oxygen in air containing helium
expected sensor life: 5 years
2.2-inch colour display, built-in touch-button interface, buzzer
signal transmission: 0.2-1 mA / 4-20 mA / RS-485
protection class: IP54
Optionally available:
RC22 operating unit, weatherproof housing, flow adapter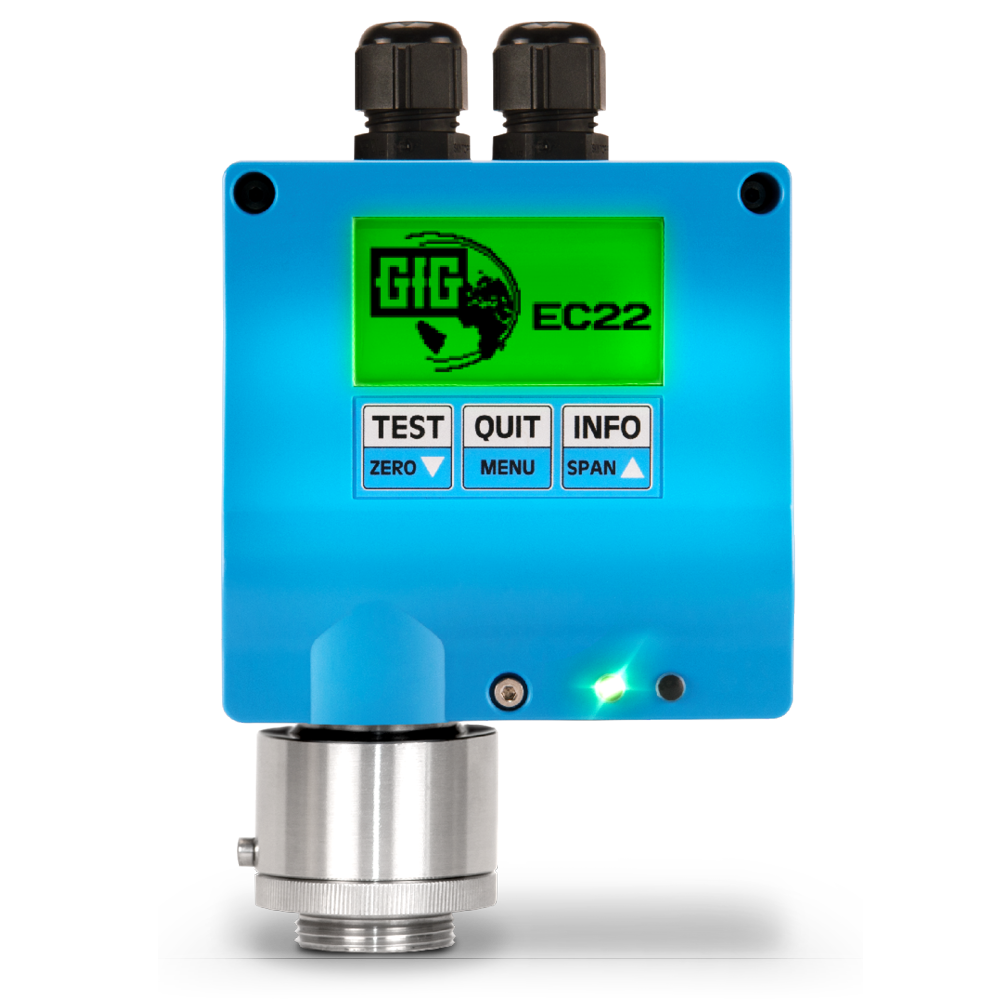 Extensions and accessories
Weatherproof housing
---
Weatherproof housing for various transmitters
» more
Test gases
---
You can find an overview of our test gases here
» more
Accessories EC22 O
---
Here you'll find the complete list of accessories for the EC22 O
» download PDF