Transmitter with display for toxic gases, oxygen and hydrogen

If you need to monitor toxic gases, oxygen or hydrogen outside of Ex zones, the EC22 D transmitter is a reliable and economical solution. The EC22 D transmits measured values and status notifications on analog (0.2-1 mA or 4-20 mA) or digital (RS-485) signal, while also displaying them on site. In the event of an alarm, it warns everybody in the vicinity using its internal buzzer. In combination with GfG's reliable controllers, it can be installed in new gas detection systems or retrofitted into existing ones.
The EC22 D uses the electrochemical method (EC) to detect toxic gases such as carbon monoxide as well as oxygen and hydrogen. The current measured value is indicated on the 2.2-inch display, which lights up red in the event of an alarm. The different sensors measure a variety of gases in measuring ranges such as 0 to 2,000 ppm or 0 to 25 % by volume. Its automatic temperature compensation and the linearization of the measuring signals ensure high measuring accuracy.

Functional safety and device protection
The hardware of the EC22 D complies with the European Functional Safety Standard DIN EN 61508-2: 2011 (SIL). The housing is protected against the ingress of dust and water (protection class: IP54). An optional weatherproof housing provides additional protection.

Communication and service
Signals are transmitted via the analog industrial standard (optionally 0.2-1 mA or 4-20 mA) or the digital RS-485 interface (Modbus protocol). The transmitter uses two status LEDs to indicate its operating status. The built-in button interface is intuitive to use and facilitates service and adjustments on site (one-person adjustment). The multi-colored backlit display shows the current measured value, status notifications and the EC22 D's menu. Test gases for functions tests can be inserted via a calibration adapter.

Key features at a glance:

General information:
Measuring principle: Electrochemical (EC)
For toxic and combustible gases, oxygen
Expected sensor lifetime: 2-3 years
2.2-inch color display, built-in button interface, buzzer
Signal transmission: 0.2-1 mA / 4-20 mA / RS-485
Protection class: IP54
Approvals / Certifications:
Optionally available:
RC22 operating unit, weatherproof housing, calibration adapter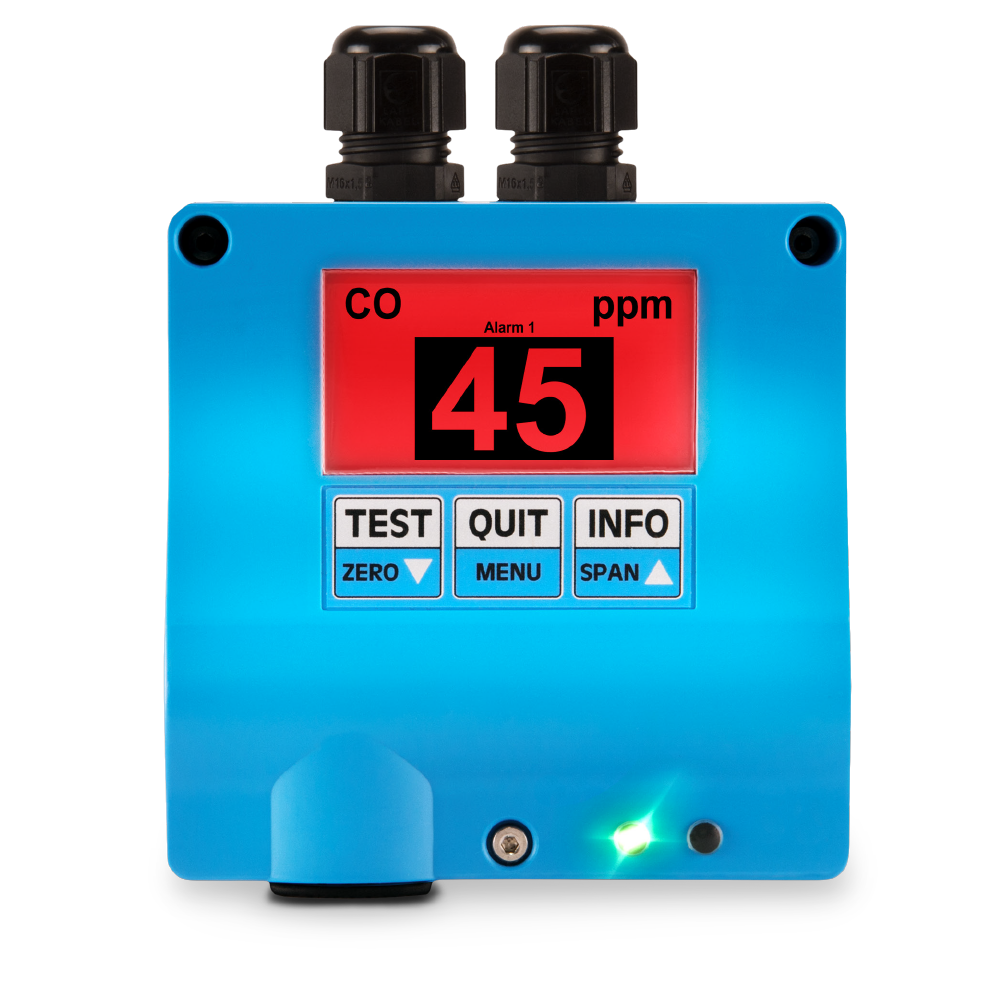 | | |
| --- | --- |
| Cl2 | Chlorine |
| ClO2 | Chlorine dioxide |
| CO | Carbon monoxide |
| F2 | Fluorine |
| H2 | Hydrogen |
| | |
| --- | --- |
| H2S | Hydrogen sulfide |
| HCl | Hydrogen chloride |
| HCN | Hydrogen cyanide |
| NH3 | Ammonia |
| NO | Nitric oxide |
| | |
| --- | --- |
| NO2 | Nitrogen dioxide |
| O2 | Oxygen |
| O3 | Ozone |
| SiH4 | Silane |
| SO2 | Sulfur dioxide |
Other gases on request.
Extensions and accessories
Weatherproof housing
---
Weatherproof housing for various transmitters
» more
Test gases
---
Find an overview of our test gases here
» more
Accessories EC22 D
---
Find the complete list of accessories for the EC22 D here
» download PDF