Modular and compact gas sampling system for wall mounting

The GMA200-MGSS is a compactly designed sampling system that sequentially monitors up to three gases or vapors at up to six measuring points. It is the perfect solution for applications where difficult environmental conditions make it challenging or even impossible to install transmitters in situ. Equipped with a display, integrated relays and a bus connection for up to twelve external transmitters, the MGSS meets all the requirements of an all-in-one solution.
Most gas sampling systems are bulky, heavy and expensive. That's why we developed the GMA200-MGSS to offer a compact all-in-one solution that can be expanded upon both individually and modularly. With the capabilities of a complex gas sampling system, it is still not larger than our GMA200 series controllers in a wall-mounted housing. The MGSS is easy to mount, easy to maintain, safe and reliable.

Adaptable for difficult conditions
The modular concept allows perfect adaptation to the requirements of the monitored plant. Whether a simple solution for one gas or a full GSS for sequential monitoring of three gases from six intake points is required, the MGSS is the best choice for measuring gases in hot, humid, cold or dusty environments. To ensure accurate monitoring as well as long sensor life, a water barrier, condensate trap and suitable cooling coils are available as accessories. Equipped with a flame arrester, even samples from an Ex zone can be aspirated and analyzed.

Suitable for a wide range of gases
The sensor block can accommodate up to three sensors. Two electrochemical and/or infrared sensors and one catalytic combustion sensor can be integrated to monitor oxygen concentration, toxic gases and combustible gases down to the lower explosion limit. An overview of the measurable gases can be found at the bottom of this page.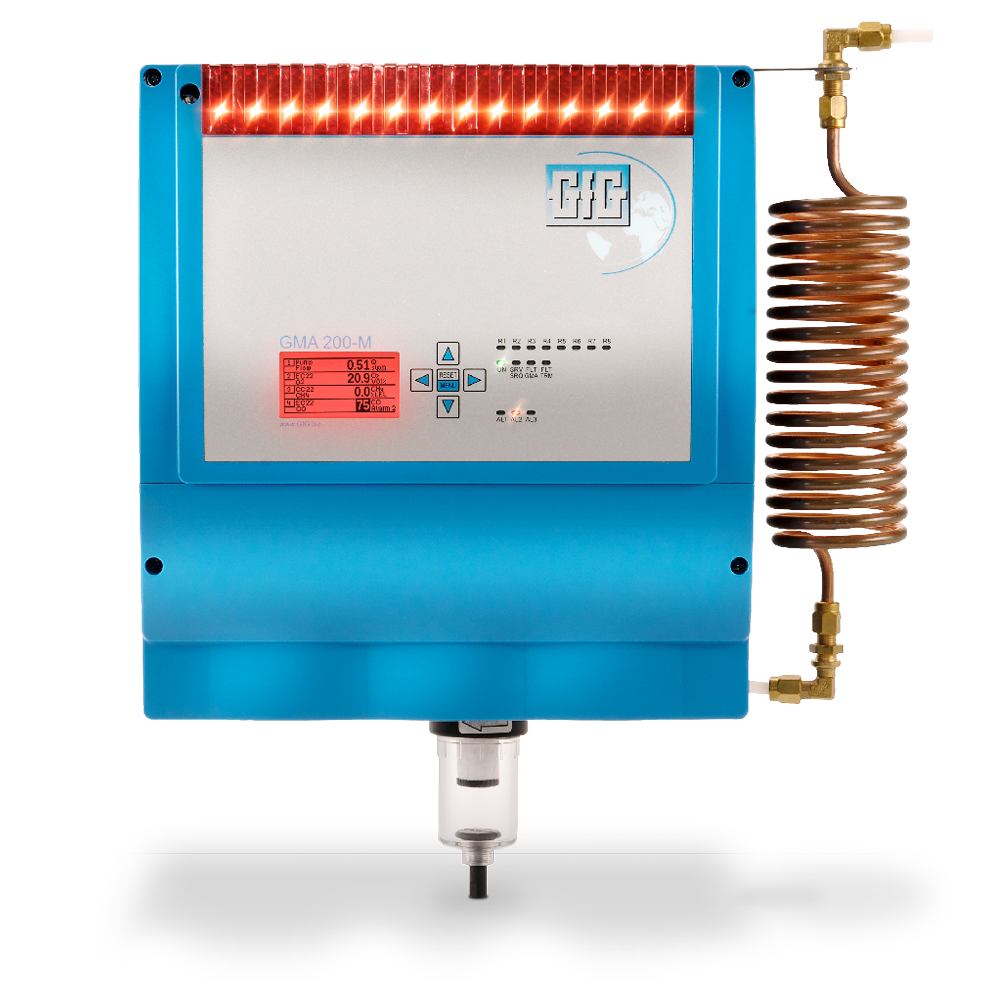 Expansion possibilities
The MGSS has eight internal relays, six of which are individually programmable. Up to four GMA200-RT or GMA200-RTD relay modules (16 relays each with one normally open contact) can be connected via the GMA bus. At the maximum expansion level, 70 freely programmable relays are therefore possible. If needed, up to twelve additional external transmitters can be connected via the digital RS-485 interface. The data logger stores all measured values and incidents on a microSD card for subsequent evaluation.

Quick assessment of hazardous situations
The current measured values, operating status and the alarm level are indicated directly on the MGSS's color backlit display and its status LEDs. It also features a red LED bar for a clearly visible alarm and an integrated buzzer to give an acoustic alarm. On-site operation and alarm acknowledgement is performed via five buttons at the side of the display. The device is operated via the USB interface, a laptop or PC and the GMA200Config software. All measurement data of the GMA200-MGSS can be displayed centrally and clearly on a monitor or PC using optional visualization software.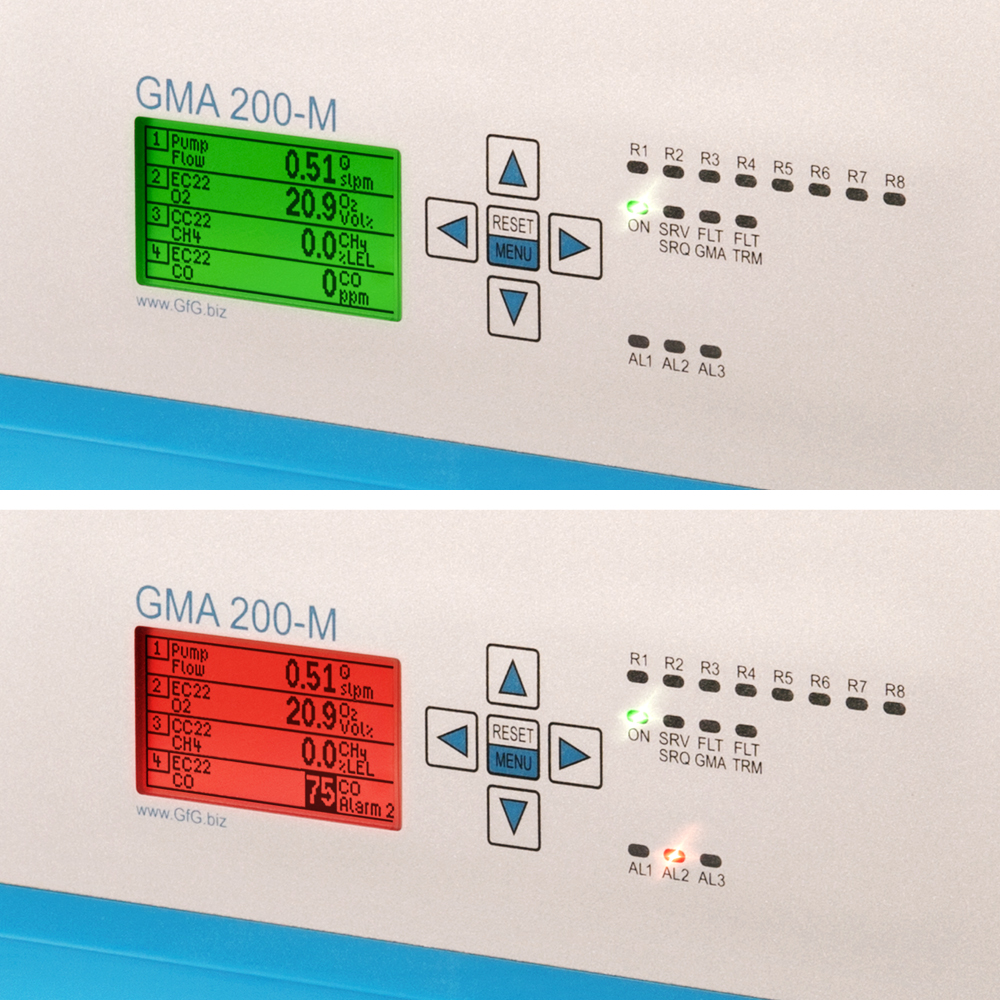 Key features at a glance:

General information:
Sensor block for up to 3 sensors (1x CC, 2x EC/IR)
Monitors up to 3 gases at up to 6 measuring points
Integrated pump (0.5 slpm)
Features:
Connection of up to 12 external transmitters
8 integrated relays for safety concepts, fault messages and maintenance
Color backlit 2.2" display
15 colored status LEDs
Visual and audible alarm
Housing for wall mounting (protection class IP54)
Optionally available:
Flame arrester, condensate trap, cooling coils, water barrier, gas switching valve
Data logger (microSD card)
Relay module for expansion
Visualization software
Uninterruptible power supply
Control unit RC22 for calibration and adjustment of the sensors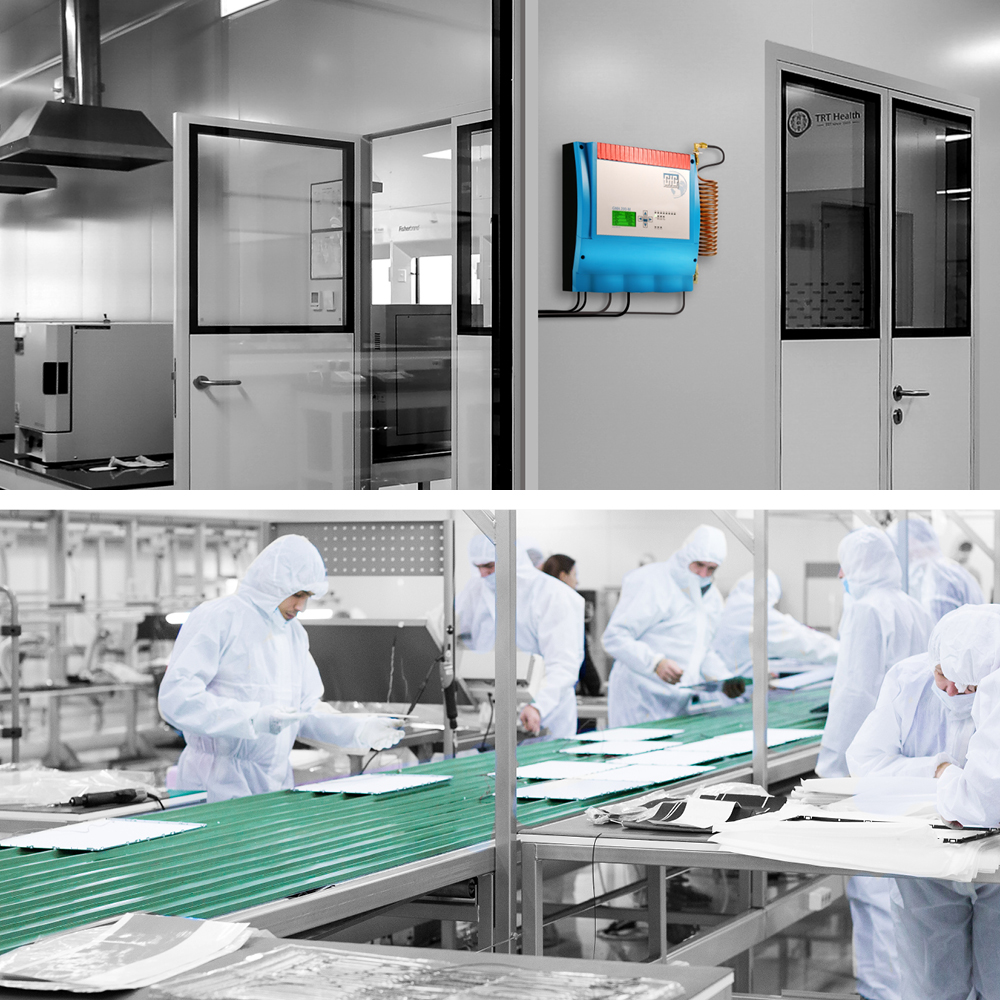 | | |
| --- | --- |
| C3H8 | Propane |
| CH4 | Methane |
| CO | Carbon monoxide |
| | |
| --- | --- |
| CO2 | Carbon dioxide |
| H2S | Hydrogen sulfide |
| HC | Hydrocarbons |
| | |
| --- | --- |
| NH3 | Ammonia |
| O2 | Oxygen |
| SO2 | Sulfur dioxide |
Other gases on request.
Extensions and accessories