Transmitter with display for flammable gases and carbon dioxide

If you need to monitor carbon dioxide or flammable gases outside of Ex zones, the IR22 D transmitter is a durable and economical solution. The IR22 D transmits measured values and status displays via analog (0.2-1 mA or 4-20 mA) or digital (RS-485) signal, while also displaying them on site. In the event of an alarm, its internal buzzer will emit a loud acoustic warning signal. In combination with GfG's reliable controllers, the IR22 D can be installed in new gas detection systems or retrofitted into existing ones.
The IR22 D uses an infrared sensor (IR) to detect carbon dioxide and the combustible gases methane and propane. The current measured values are displayed on the 2.2-inch display, which lights up red in the event of an alarm. The long-life sensors make the IR22 D an economical solution for detecting gases in measuring ranges such as 0 to 10,000 ppm, 0 to 100 LEL or 0 to 50 % by volume. Its automatic temperature compensation and the linearization of the measuring signals ensure high measuring accuracy.

Functional safety and device protection
The hardware of the IR22 D complies with the European Functional Safety Standard DIN EN 61508-2: 2011 (SIL). The housing is protected against the ingress of dust and water (protection class: IP54). An optional weatherproof housing provides additional protection.

Communication and service
Signals are transmitted via the analog industrial standard (optionally 0.2-1 mA or 4-20 mA) or the digital RS-485 interface (Modbus protocol). The IR22 D uses two status LEDs to indicate its operating status. The built-in button interface facilitates service and adjustments on site (one-person adjustment). The multicolor backlit display shows the current measured value, status notifications and the menu of the IR22 D. Test gases for function tetsts can be inserted using a calibration adapter.

Key features at a glance:

General information:
Measuring principle: Infrared (IR)
For carbon dioxide and flammable gases
Expected sensor lifetime: > 5 years
Color 2.2-inch display, built in button interface, buzzer
Signal transmission: 0.2-1 mA / 4-20 mA / RS-485
Protection class: IP54
Approvals / Certifications:
Optionally available:
RC22 operating unit, weatherproof housing, calibration adapter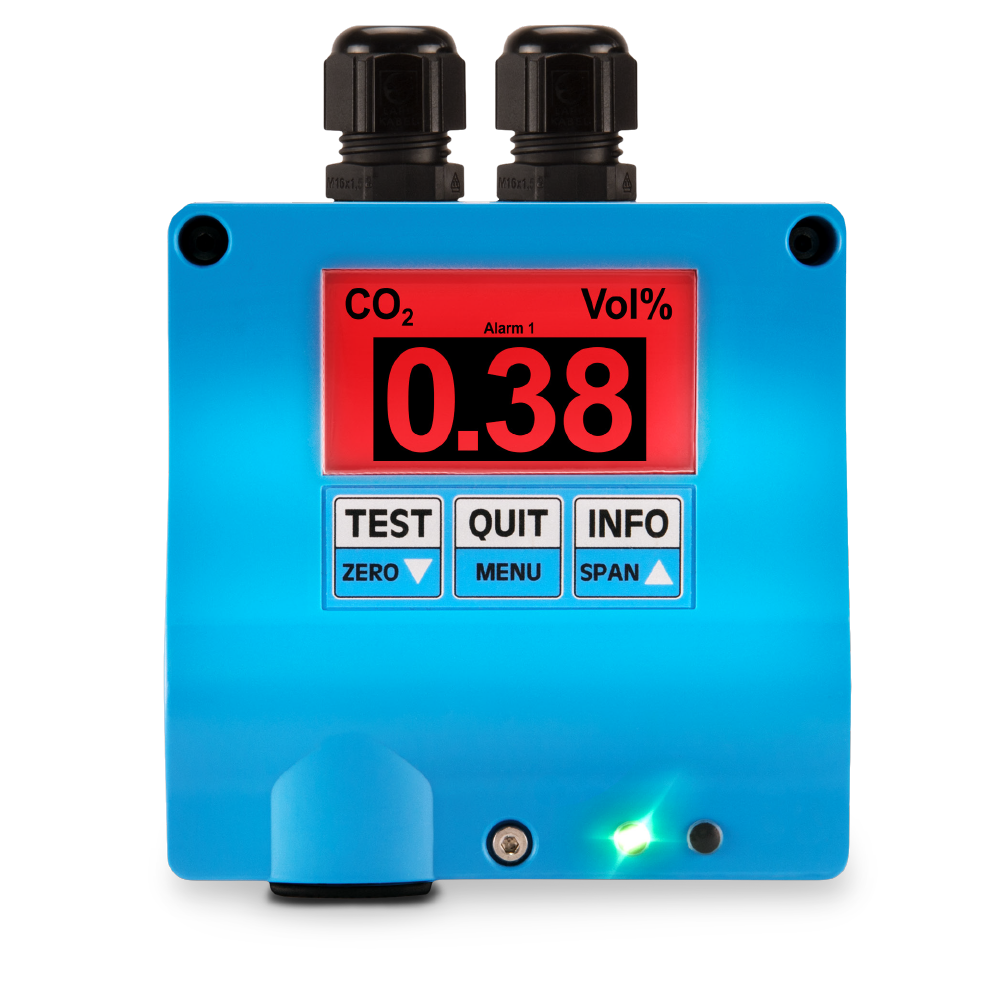 CH2F2
Difluormethane/R32
0 to 100 % LEL
0 to 14.0 % by volume
CH4
Methane
0 to 100 % LEL
0 to 5.0 % by volume
CO2
Carbon dioxide
0 to 1.0 % by volume
0 to 5.0 % by volume
0 to 10.0 % by volume
0 to 25.0 % by volume
0 to 50.0 % by volume
C3H8
Propane
0 to 100 % LEL
0 to 2.0 % by volume
Other gases on request.
Extensions and accessories
Weatherproof housing
---
Weatherproof housing for various transmitters
» more
Test gases
---
Find an overview of our test gases here
» more
Accessories IR22 D
---
Find the complete list of accessories for the IR22 D here
» download PDF