TFT display for central visualization of measured values and alarms

In complex applications with several controllers and measuring points, it is necessary to have a clear overview of each individual measured value, alarm and operating status at all times. In combination with our visualization software GMA200-VS, our TFT displays of the GMA200-TFT series fulfill exactly this purpose. They can be mounted in a secure, central location for visualization and are available in two screen sizes.
Even if the controllers and transmitters in a gas detection system each have their own integrated display to indicate measured values, a central visualization of the entire gas detection system will offer great advantages. The measured values and alarm statuses of all transmitters that are connected to different controllers can be displayed on one screen, which is especially important if the controllers are located in different rooms or buildings.The screen can also be installed in a safe location, away from dangerous areas or hazards caused by gases.

Clear presentation
The TFT display comes in 8, 15 and 21 inch sizes to allow you to read measured values centrally and in a safe place. They have a touch screen function and are suitable for easy wall mounting or control cabinet installation. The GMA200-VS software provides a particularly good overview of all measuring points as all connected controllers and all transmitters are displayed comprehensively. The clear color scheme makes it possible to quickly assess the situation at any time:
Green: Everything is fine (no alarm and no malfunction).
Yellow: Special status (e.g. maintenance or malfunction)
Orange: Alarm 1 (pre-alarm)
Red: Alarm 2 or 3 (main alarm)

You can access both a general overview of all crew controllers and a detailed individual view within the user interface. In addition to the room, controller and transmitter designations, the currently measured gas concentration, the gas type, the measuring range and the configured alarm thresholds are displayed. Alarms can be acknowledged via the reset function.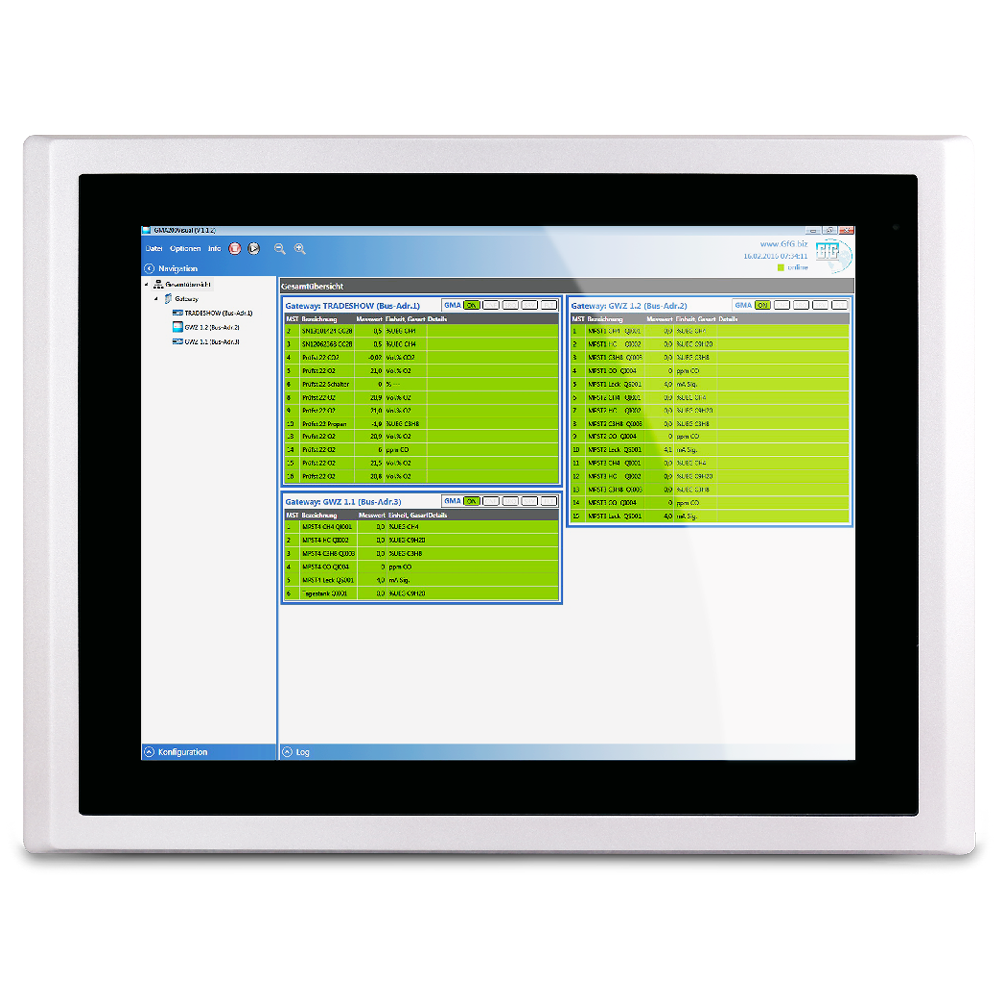 Easy-to-use touch screen
The visualization displays of the GMA200 TFT series are full-fledged touch-screen computer interfaces. The resolution is up to Full HD (1,920 x 1080 pixels), depending on the screen diagonal. Smooth operation is ensured by 4 gigabytes of RAM and a quad-core processor with silent cooling without a fan. The integrated GMA200-VS software can also be purchased as a single workstation license (GMA200-VSL) to display measurement values on a computer or laptop.
Available sizes
| | | | |
| --- | --- | --- | --- |
| Screen diagonal | Resolution | MW16 housing | Panel mounting |
| 8" (20,3 cm) | 800 x 600 px | yes | yes |
| 15" (38,1 cm) | 1024 x 768 px | no | yes |
| 21,5" (54,6 cm) | 1920 x 1080 px | no | yes |

Well protected and with various connection options
The case is made of die-cast aluminum, the frame of aluminum. The front's protection class is IP65, which means the display can withstand tough external operations like splash water or dust. With a hardness level of 7H, the display glass is insensitive to scratches. The TFT screen is powered by a 24 V DC power supply unit. For integration into a gas detection system, one of the USB ports can be used in conjunction with an RS-485 adapter, as well as the GMA bus or an Ethernet port.
Key features at a glance:

Suitable for the gas detection computers of the GMA200 series
Clear display of measured values and events
Visualization software GMA200-VS included
Touch screen function
Available in 8, 15 and 21.5 inch sizes for panel mounting
Also available as 8-inch screen in GMA200-MW16 wall-mount housing (incl. power supply)