CC33 Transmitter aluminum
Transmitter for flammable gases and vapors with ignition protection type "d"

If flammable gases and vapors need to be monitored safely in Ex zones under demanding conditions such as in industrial plants, the CC33 transmitter is an extremely robust and reliable solution. The CC33 can communicate its measured values and status indications either via analog (4-20 mA) or digital (RS-485) signal. The current measured gas concentration is also shown on an LC display. The special stack effect ensures very short response times of only a few seconds for a quick warning of explosion hazards. Three relay outputs provide additional alarm options. In combination with GfG's reliable controllers, it can be installed in new gas detection systems or retrofitted into existing ones.
The CC33 uses catalytic combustion (CC; also heat tone or HT) to detect flammable gases and vapors such as methane, propane and hydrogen as well as ammonia. The long-life sensors make the 33 series transmitters an economical solution for detecting a wide range of combustible gases in the measuring ranges 0 to 100 % LEL and 0 to 4 % by volume (NH3). Its automatic temperature compensation and the linearization of the measuring signals ensure high measuring accuracy. In the event of an alarm, two red LEDs light up and the display color changes to red. The three optional relay outputs can be used to automatically trigger an explosion-proof buzzer, visual warnings such as flashing lights or the ventilation in case of an alarm.

Communication and service
Signals are transmitted via the analogue industrial standard (4-20 mA) or the digital RS-485 interface (Modbus protocol). The CC33 uses two status LEDs to indicate its operating status. It also features two additional alarm LEDs and three relay LEDs. Service and adjustments can be carried out on site via a magnetic pen and three magnetic buttons behind 10 mm thick bullet-proof glass (one-man adjustment). The pre-adjusted sensors can be easily replaced thanks to Smart Sensor technology. The multi-color backlit display shows the current measured value, status messages and the CC33's menu. Test gases for function tests can be inserted via a calibration adapter. Alternatively, if the device is mounted in a difficult-to-reach location, an optional remote calibration adapter can be used without impairing the transmitter's stack effect.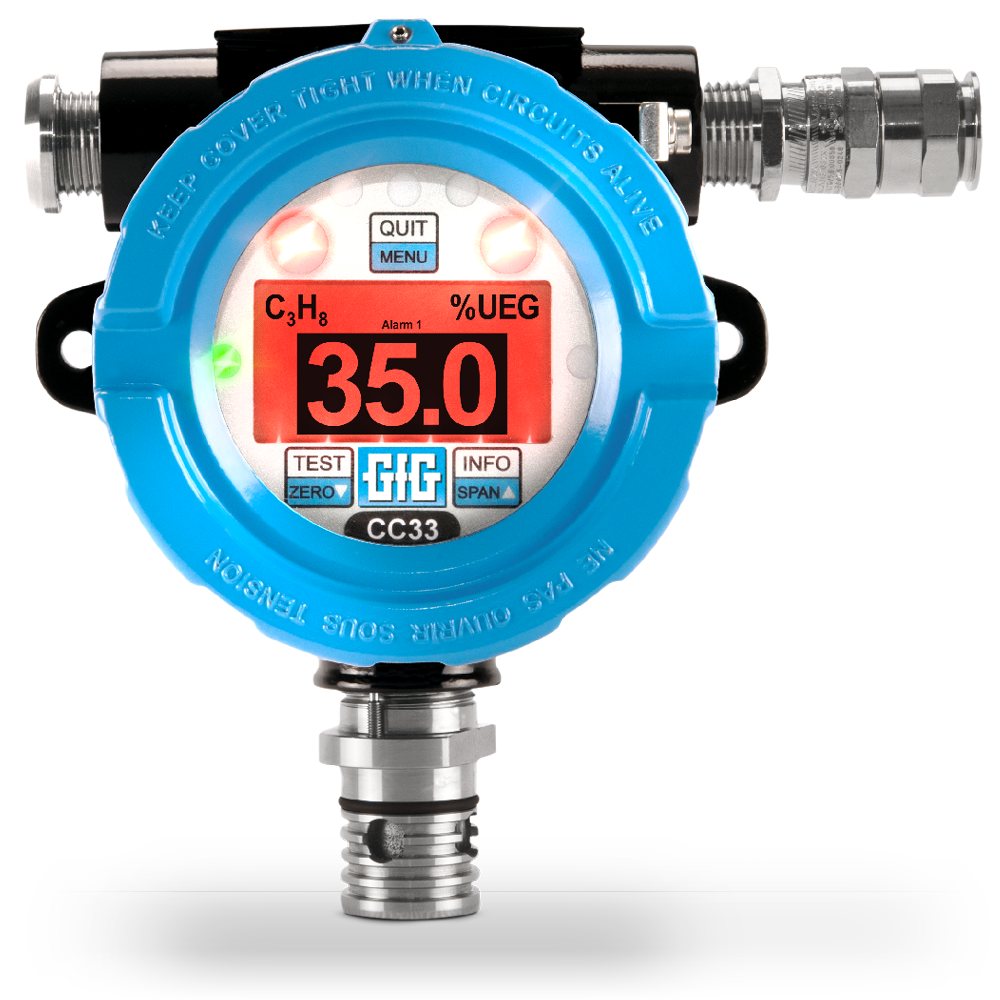 Explosion and device protection
The CC33 is approved for use up to Ex zone 1 and meets the requirements of ignition protection type "d" (flameproof enclosure). The epoxy-coated aluminim housing and Viton seals guarantee a long operating time even in the toughest conditions. The transmitter is protected against the ingress of dust and water according to IP54. If required, the protection class can be raised to IP67 by means of additional thread seals.

Key features at a glance:

General information:
Measuring principle: catalytic combustion (CC)
For flammable gases and vapors
Pressure-resistant encapsulated housing made of aluminum with bulletproof glass (10 mm)
2.2-inch colour display
Expected sensor lifetime: 5 years
Signal transmission: 4-20 mA / RS-485
Protection class: IP67 (with thread sealing, otherwise IP54)
Approvals / Certifications:
ATEX certification: II 2G Ex db IIC T6 Gb
(II 2G Ex db ib IIC T4/T6 Gb with buzzer)
Optionally available:
Three relay outputs, magnetic rod, windscreen, flow adapter, remote calibration adapter, buzzer, threaded plug, cable gland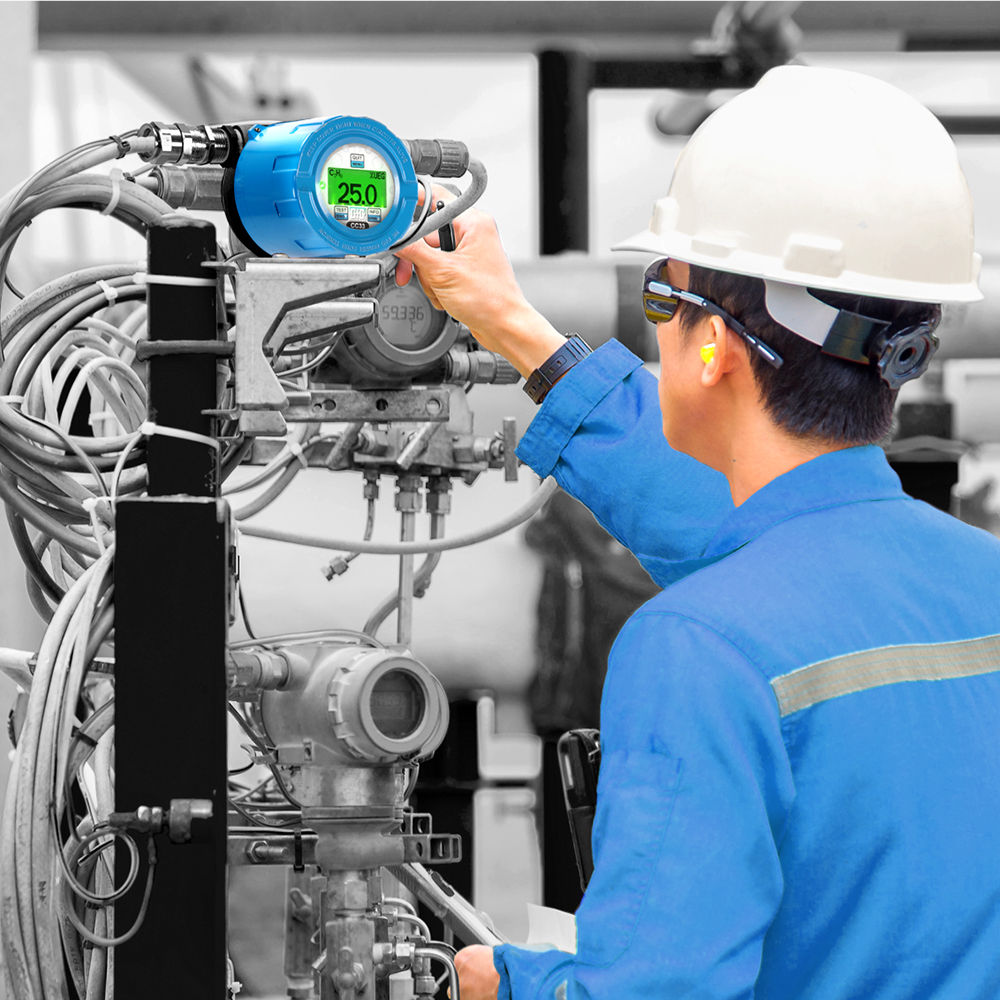 | | |
| --- | --- |
| LEL | combustible gases |
| C2H2 | Acetylene |
| C2H4 | Ethylene |
| C2H6O | Ethanol |
| C2H6 | Ethane |
| C2H6O | Dimethyl ether |
| C3H4 | Propine |
| C3H6 | Propene |
| C3H6O | Acetone |
| C3H6O2 | Methyl acetate |
| | |
| --- | --- |
| C3H8 | Propane |
| C3H8O | n-Propanol |
| C4H8O | 2-Butanon (MEK) |
| C4H8O2 | Ethyl acetate |
| C4H10 | n-Butane |
| C4H10O | n-Butanol |
| C5H12 | Pentane (n) |
| C6H6 | Benzene |
| C6H12 | Cyclo hexane |
| C6H12O | Methyl isobutyl ketone (MIBK) |
| | |
| --- | --- |
| C6H14 | n-Hexane |
| C7H8 | Toluene |
| C7H16 | n-Heptane |
| C8H18 | Octane (n) |
| C9H20 | n-Nonane |
| CH4 | Methane |
| CH4O | Methanol |
| CO | Carbon monoxide |
| H2 | Hydrogen |
| NH3 | Ammonia |
Other gases on request.
Extensions and accessories
Remote calibration adapter
---
To facilitate the regular function check of transmitters
» more
Test gases
---
You can find an overview of our test gases here
» more
Accessories CC33
---
Here you'll find the complete list of accessories for the CC33
» download PDF